Jane Seymour
"Engaging, heartfelt, and instructive – Larry's book [SHINE] will start you on the Road To Success."
– Jane Seymour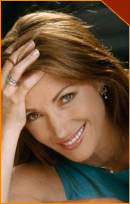 A multiple Emmy and Golden Globe winner, recipient of the Officer of the British Empire (OBE) in the year 2000, which was bestowed on her by Queen Elizabeth II at Buckingham Palace, Jane Seymour has proven her talents in virtually all media, the Broadway stage, motion pictures and television. Her love of art and color have led to her great success as a painter in watercolors and oils and as a fashion designer.
Seymour's success as an author has been exemplified by the recent success of her non-fiction novel entitled Two at a Time: A Journey Through Twin Pregnancy and Birth. Another non-fiction work titled Remarkable Changes chronicles the story of several individuals as well as Jane, overcoming adversities and life's challenges and coming out better for having lived through them.
Seymour and husband James Keach have co-authored a series of exceedingly successful children's books entitled, This One and That One. Published by Angel Gate, the delightful books are inspired by their altered life since the actress gave birth to twins. The whimsical stories transpose the Keach household into a family of cats whose lives are constantly energized by the antics of their toddler kitty twins and a new arrival called "The Other One."
Interpreting her artwork in the forms of patterns and prints on fabrics, Jane partnered with Blair Corporation's Crossing Pointe, creating The Jane Seymour Collection which features exclusive fashion designs.
Recently, Saks Inc., announced an exclusive agreement with the celebrated actress, artist and author to develop a branded line of Jane Seymour lifestyle home products and children's apparel in its Saks Department Store Group stores.
Soon to be seen in the highly anticipated "Heart of a Stranger" for Lifetime TV, Seymour has also completed her first independent film in over ten years, "Touching Wild Horses," which has garnered several accolades on the film festival circuit.
Awarded a Golden Globe for her role as "Dr. Quinn," Seymour made history with her six season, "Dr. Quinn, Medicine Woman" series, blazing a trail for family-worthy programming to return to series television. The program fostered such a devoted audience and such a wide audience demand for fulfilling, informative drama that parents could share and enjoy with their children that a national, in fact, international furor was occasioned by the series' cancellation even though it had always won its slot in every season. Her television movie was in fact the second made for TV movie of that cancelled series. "Dr. Quinn: The Heart Within" aired during May Sweeps 2001 in its original timeslot and handily surpassed its Saturday night competition going on to win the ratings war on Saturday night. Again proving that the fans loyalty to "Dr. Quinn Medicine Woman," one of the most beloved characters to grace the small screen.
Seymour has reached success with a Star career encompassing international movie stardom with such films as "Somewhere in Time" and "Live and Let Die", Broadway and London stage acclaim creating the role of Constanza in "Amadeus" in New York and television achievements in such as "Dr. Quinn Medicine Woman" and "East of Eden" in addition to a number of highly-regarded and rated movies and mini-series.
The artist has also emerged as a significant producer of distinguished projects. Through Catfish Productions, she has executed such programs as "Sunstroke" and "A Passion of Justice." The company's recent productions, in which Seymour also starred include "The Absolute Truth," "Black Out," "Yesterday's Children," "Enslavement: The Fanny Kemble Story," "Murder in the Mirror," "Dr. Quinn, The Movie" and "A Marriage of Convenience" all brought both hot reviews and high audience numbers.
Daughter of a British obstetrician and his Dutch wife, Jane was born in Hillingdon, England and raised in Wimbledon. She began training in dance at an early age, and was just thirteen when she made her professional debut with the London Festival Ballet. That same year, she entered the Arts Educational for dance, music and theatre training and danced with the visiting Kirov Ballet at Covent Garden.
After an injury, she then turned to acting, dedicating herself to that craft with the same commitment she had given her ballet. Her film debut was a chorus girl in Richard Attenborough's "Oh, What A Lovely War," which resulted in her being discovered by the top agent in the United Kingdom.
She played roles in a range of classical plays and performed in radio dramas. But it was as Winston Churchill's first love, Pamela Powden, in the Carl Foreman motion picture, "Young Winston," that Jane attracted the attention of top producers.
Her first television series was the BBC-TV project, "Onedine Line," and this led to her casting in the starring role of Solitaire in one of the most popular James Bond films, "Live and Let Die."
Her portrayal of a proper Bostonian in "Captains and Kings" brought her the first of many Emmy nominations. She received recognition for her work in "Jack, The Ripper" and "War and Remembrance," and for the latter was nominated on two successive years in the Best Actress category for both the Emmy and Golden Globe Awards.
She won the Emmy Award as Best Actress in a Supporting Role for her portrayal of Maria Callas in ABC-TV's "The Richest Man Alive," based on the story of Aristotle Onassis, and was nominated for a Golden Globe Best Actress Award for her performance as the Duchess of Windsor in the CBS-TV movie "The Woman He Loved."
Actively involved in numerous charitable causes, Jane works for Childhelp USA, a national organization dedicated to the research, treatment and prevention of child abuse, as International Ambassador. The organization's "Woman of the World" award is one of the many honors she has won for her social and charitable achievements.
Seymour is also the Honorary Chairperson for City Hearts, an organization that enriches the lives of abused children, inner-city children and disadvantaged youths, by teaching the performing arts, including painting, dancing and acting. She is, as well, ambassador for children's issues for the film world's charitable arm, Entertainment Industries Foundation/Permanent Charities.
Her talents as a fine artist led to the production of a series of greeting cards sold to support her charities and on her website. One of her watercolors which was featured on a special "Private Issue" Discover Card, raised $25,000 for the Make-A-Wish Foundation at a charity auction at the Guggenheim Museum. A subsequent painting sold for an additional $20,000. She was also asked to design a special edition bottle for Korbel Champagne, and a silk scarf for Escada, another charitable endeavor.
She is, additionally, the extremely hands-on mom for twins John and Kristopher, teen-age Sean and Katie, her stepdaughter Jenni and stepson Kalen.
Seymour and Keach reside in Malibu and she owns a 15th century historic manor house near Bath, England, which she is dedicated to preserving called St. Catherine's Court.
For more than a decade, Jane has actively supported Childhelp USA, one of the nation's oldest and largest non-profits dedicated to the prevention and treatment of child abuse and neglect. http://www.childhelpusa.org/
Purchase Jane's Remarkable Changes here: